March 2020 numbers still look good despite the COVID-19 pandemic.
How is that? The houses that closed in March were already under contract before we were issued a Stay At Home Mandate. We will see the real effect of this pandemic when we look at the April numbers. I will tell you that we have seen a 50% decrease in showings, so expect some not so good news in April.
All that being said, as a whole, the industry feels that housing will bounce back quickly when this is over. There are a lot of pent up buyers that will be ready to make a move as soon as they can move around freely without worry about getting sick.
ASCENSION PARISH
Average sales prices in March 2020 remained steady year over year at $267,822, and there was a slight rise in List to Sales price ratio of 99.32%. The average days on the market were the same. What we did find interesting is that the average price of unsold homes in March of 2020 was $258,925, while in March of 2019, the average price of unsold homes was $291,359. It seems that many of the larger houses were either sold or taken off the market.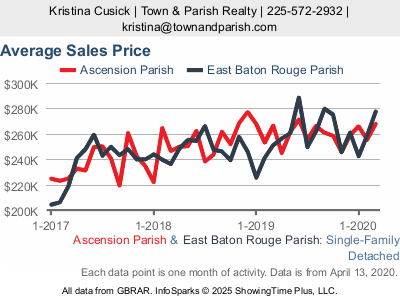 EAST BATON ROUGE PARISH

Average sales prices in March 2020 were much higher at an almost 11% increase to $277,823 over the March 2019 average sales price of $250,567. The List to Sales price ratio also rose to 97.7%. If you remember, in 2019, East Baton Rouge Parish was struggling for a bit, and boy did they bounce back. Three-bedroom homes are still popular and are dominating the market.

Posted by Kristina Cusick on
Tags